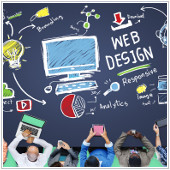 Your company website's main purpose is to create an initial impression on potential customers. And because first impressions last, your website needs to be visually appealing, responsive, and up to date with web trends. This is why careful thought — and a splash of creativity — are important when it comes to designing your business website. Here are some website trends you should consider:
Mobile-friendly layouts
Many websites today are designed to have a mobile version. With around 47.07% of all internet traffic coming from mobile devices, it's safe to assume that you are losing a big percentage of your viewership by not having a mobile-friendly website.
Implementing a thumb-friendly mobile web design is also critical, as most people who browse websites on mobile do so with one hand while on the go or doing another task or activity. Putting important navigation features within reach of a mobile user's thumb on the screen will greatly improve your website's user experience.
Website load time
One of the most important web design features these days are high-speed website load times. Site visitors seem to be more impatient than ever, and they would most likely close websites that take three or more seconds to load. According to a study conducted by Pinterest, efforts to speed up web page load times reduced perceived wait times by 40%, resulting in a 15% increase in search engine traffic and sign-ups.
One technique for cutting down load times for content-rich sites is to lazy load the page instead of fully loading it before it can be viewed. Lazy loading is when a browser is configured to only load the portion of the page that is currently viewable on the screen. The parts of the page that are currently off-screen won't be loaded so that they don't consume too much processing power. This works great for websites that are configured to have infinite scroll, like Pinterest.
Micro-interactions
Micro-interactions are small animations that provide subtle feedback after they complete an action. These are usually found on navigation and tool buttons to further emphasize the purpose of each button. For example, if your cut button is a pair of scissors, you can make it do a couple of snip motions during mouseover. Or if your delete button is a rubbish bin, you can make its lid pop open during mouseover.
These actions will make your website more lively and easy to navigate for site visitors. It's also a great way to keep them on your site for longer periods of time.
Micro-animations
Although similar to micro-interactions, micro-animations are more for aesthetic purposes. You can use them to make your site more visually appealing, as well as to subtly direct visitors toward certain parts of your site that you would like to gain more attention. For example, if you run a coffee business, your website's micro-animations can be a pot of coffee brewing for page loads, or a big puff of steam from an espresso machine for page transitions.
Dark mode
Many users appreciate dark mode because it helps them conserve device power and lessens the strain on their eyes when they browse the internet before bedtime. Websites that offer this option may entice visitors to stick around to read articles and learn more about the product offerings, simply because the site is comfortable to use.
If you need help staying on top of website design trends or adapting to an ever-changing digital landscape in general, give us a call.
Published with permission from TechAdvisory.org.
Source.