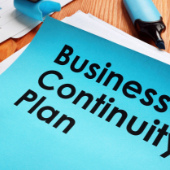 A variety of untoward events can disrupt the operations of small- to medium-sized businesses (SMBs), including natural disasters or cyberattacks. These incidents can cause SMBS to lose revenue, or in some extreme cases, close permanently. Fortunately, having a concrete business continuity plan (BCP) in place will help your business recover quickly after a disaster.
What is a BCP?
A BCP is a predefined set of protocols on how your business should respond in case of an emergency or natural disaster. It contains contingency plans for every aspect of your organization, including human resources, assets, and business processes.
Key threats to business continuity
Various types of threats can affect SMBs such as:
Natural disasters: These are natural phenomena such as floods, storms, earthquakes, and wildfires.
Man-made disasters: These include cyberattacks, intentional sabotage, and human negligence.
Equipment and utility failures: These include unexpected power failures, internet downtime, and disruption of communication services.
How to build an effective BCP
If your company does not have a BCP in place, now is a good time to create one. These steps will help you formulate an effective BCP that will ensure your company keeps running even during a major crisis.
Perform a risk assessment
To create an effective BCP, it's important to identify the risks to prioritize. Start by identifying potential threats that may impact your daily operations. List down as well industry risks, geographical area, rising trends, and issues that your stakeholders may encounter. Next, categorize the risks based on the level of impact, likelihood of occurrence, or other criteria.Once risks have been identified and a plan has been developed, carefully identify any possible gaps. Collaborate with your team to identify any weak points in the plan, and make changes as necessary.
Perform a business impact analysis (BIA)
A BIA will help you determine how a disruption can affect your company's current functions, processes, personnel, equipment, technology, and physical infrastructure. IT will also help you calculate the potential financial and operational loss from each function and process affected.
Identify your recovery options
Identify key resources for restoring your business to minimum operational levels. Some recovery options you can take include using data backups, allowing employees to work from home or operating from a secondary location.
Document the plan
Make a record of the BCP and store the document in a secure location, preferably an off-site one to reduce the risks of loss or damage in case of a disaster.
Test and train
Once your BCP is in place, your continuity team needs to perform tests regularly to identify gaps and make necessary changes to ensure the plan's effectiveness. They also need to conduct regular employee training so that everyone knows their respective roles should a disaster strike.
Having an effective BCP is a great way to ensure your business can quickly recover after a major disaster. If you're thinking about creating a BCP for your company but don't know where to start, give us a call today.
Published with permission from TechAdvisory.org.
Source.